Women of the Camino Real.
At least 20 percent of the first Spanish settlers who braved the Camino Real journey in 1598 were women.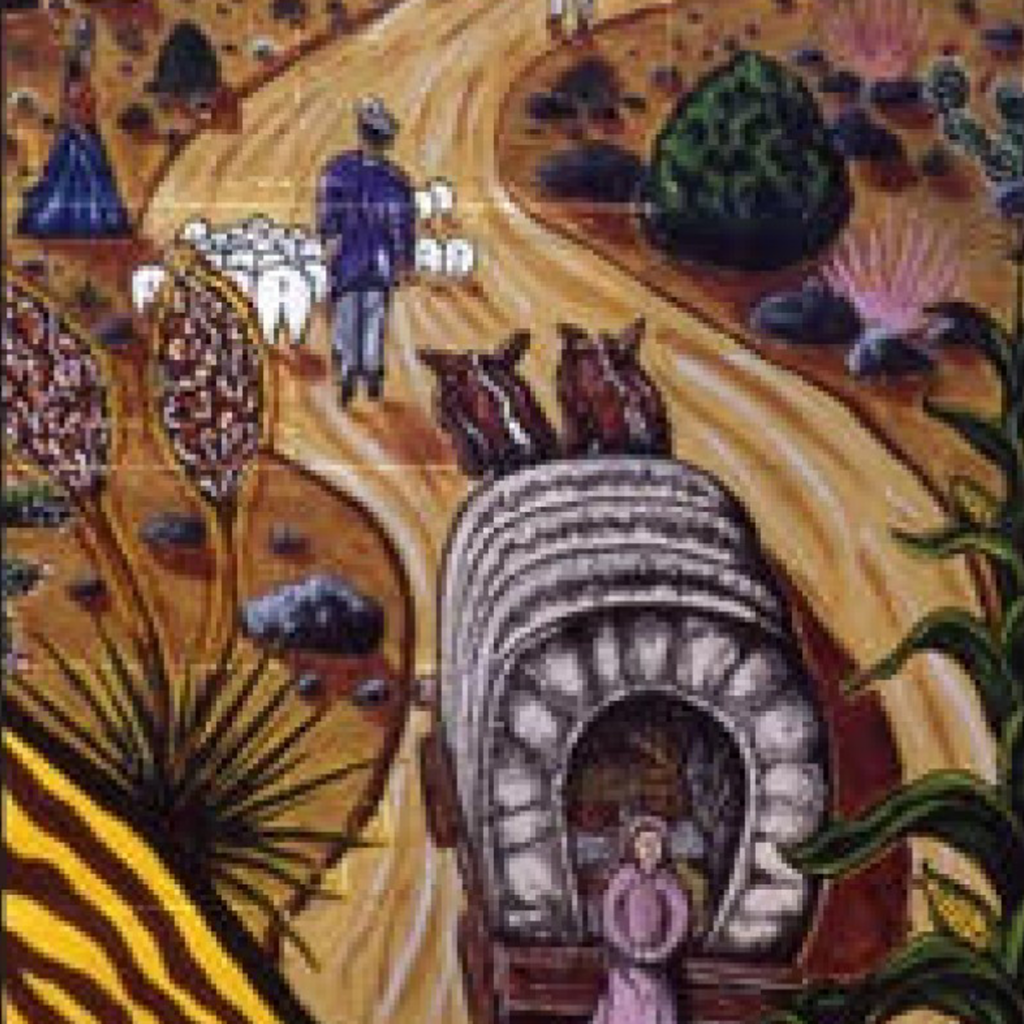 Thousands of women traveled the Camino Real, a difficult and dangerous 1,800-mile journey. Successfully crossing through deserts, broken rough terrain, and river crossings, these women defined the culture and shaped the history and traditions of New Mexico throughout the 16th and 17th centuries.
Starting in 1598, when Juan de Oñate led the first colony from the Zacatecas area of what is today Mexico, thousands of women traveled over the Camino Real in both directions. In any season, whether over the Jornada del Muerto (the longer river route), or through the sand dunes in Chihuahua, travel on the trail was always difficult, dangerous, and traumatic. The 1,800 mile journey included travel through deserts, broken rough terrain, and river crossings. Attacks from hostile people always posed a threat.
Along with that first expedition, women traveled the Camino as part of the Spanish exodus during the 1680 Pueblo Rebellion and resettlement in 1693 and after. During the exodus, one notable woman, Doña Ana Robledo, succumbed to age and the trip's harshness and was buried below the southern New Mexico mesa that bears her surname today.
The 1693 resettlement under Diego de Vargas included many women who returned to New Mexico as widowed heads-of-household. They returned and re-established their families, the descendents of whom are still in New Mexico today. Diego de Vargas's subsequent recruitment efforts emphasized families and set precedent for future immigration up the Camino Real and into New Mexico that included women. Some of these women returned to Mexico for personal as well as business reasons.
Captive Native American women also traveled south on the Camino Real. Beginning with women taken from Acoma Pueblo in 1599 who were sent to a convent in Mexico, Native Americans went south as slaves, household servants, and captives. They, too, suffered the deprivations presented by the Camino Real.
Whether these women traversed the trail by foot, horse, mule, or in carros (wagons), they had to successfully face all the hardships of the long and famous trail. Those who survived and made New Mexico their home helped establish the cornerstones of New Mexico society. They became defenders of their households and villages, their families and friends, and their lifestyles. They played a pivotal role in New Mexico's colonization and expansion, helping define the culture and shape the history and traditions of New Mexico throughout the 16th and 17th centuries.
Sources:
Chávez, Fray Angélico. Origins of New Mexico Families: A Genealogy of the Spanish Colonial Period. Santa Fe:Museum of New Mexico Press, 1992.
Colligan, John B. "Vargas' 1693 Recruits for the Resettlement of New Mexico," Genealogical Journal of the Society of Hispanic Historical and Ancestral Research, Vol. 2, 1995, pp. 169-215.
"El Camino Real de Tierra Adentro National Historic Trail." Comprehensive Management Plan/Final Environmental Impact Statement. Santa Fe:National Park Service/Bureau of Land Management/U. S. Department of the Interior, 2004.
Hammond, George P. and Agapito Rey. Oñate Colonizer of New Mexico, 1595-1628. Albuquerque:University of New Mexico Press, 1953.
Jones, Oakah L. Los Paisanos: Spanish Settlers in the Northern Frontier of New Spain. Norman, OK:University of Oklahoma Press, 1979.
Palmer, Gabrielle G. El Camino Real: Un Sendero Histórico. Santa Fe:Camino Real Project, 1990.
Preston, Douglas and José Antonio Esquibel. The Royal Road: El Camino Real from Mexico City to Santa Fe, (Albuquerque:University of New Mexico Press, 1998.
Snow, David H. New Mexico's First Colonists: The 1597-1600 Enlistments for New Mexico under Juan de Oñate, Adelante & Gobernador. Albuquerque:Hispanic Genealogical Research Center of New Mexico, 1996.